Dr. Svastits Uses This Nutritional Product
Greens FIRST Is Good For The Whole Family and Best Of All… It Tastes Great!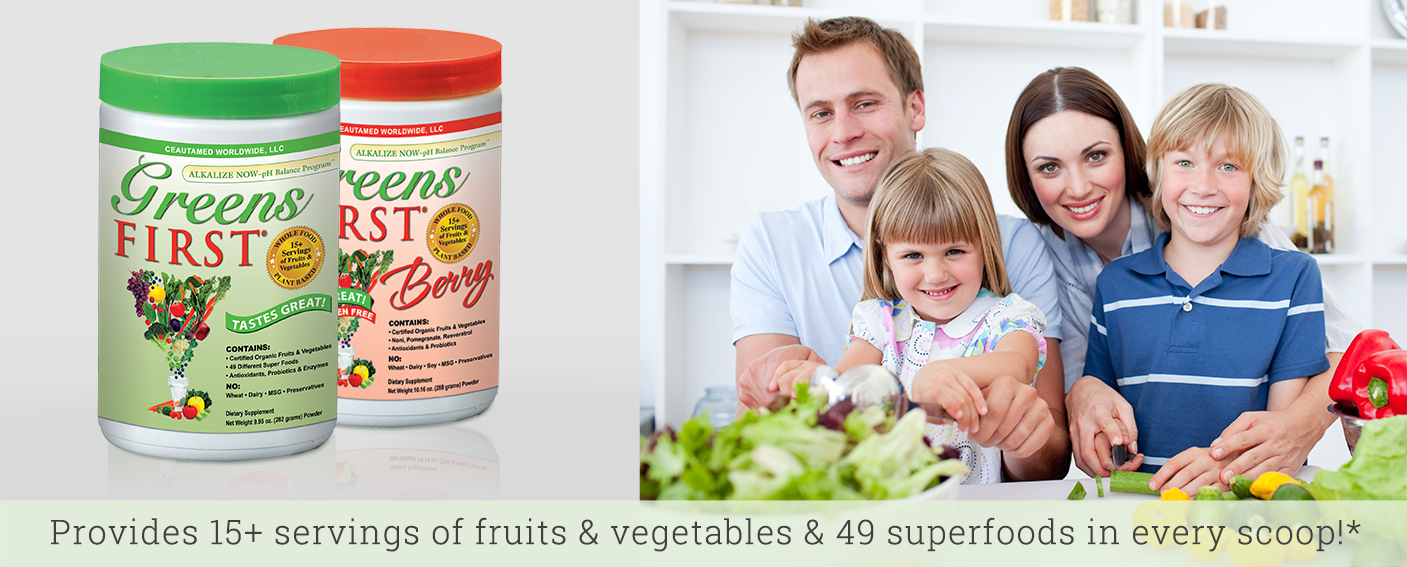 Adding Greens FIRST to your diet may help:
Boost Energy
Promote a Healthy Heart
Improve Digestion
Boost the Immune System
Alkalize and Balance pH
Support Normal Blood Sugar
Fight Aging
Promote Normal Cholesterol
Assist Weight Management
No Sugar Added!
No Wheat, Dairy, MSG, Artificial Sweeteners or Preservatives!
Here's What the Experts Say:
Eating fruits and vegetables, particularly dark green leafy vegetables, appears to have a protective effect against coronary heart disease.
Annals of Internal Medicine, 2001, Vol 134, No 12, pp 1106-1114
Men and women whose diets were high in fruits and vegetables were shown to have lower rates of angina, arthritis, asthma, bronchitis, cirrhosis, gallstones, heart attack, kidney stones, and peptic ulcers.
Epidemiology, 1998, Vol 9, No 2, p 208
Green barley juice contains 13 times more carotene than carrots, 55 times more vitamin C than apples, and 5 times more iron than spinach. "Young barley grass is one of the most nutritionally balanced foods in nature."
Yoshihide Hagiwara, M.D., Associate Professor, Department of Environmental Toxicology, UC Davis
Spirulina increased antibody responses and the activity of natural killer cells, which destroy infected and cancerous cells in the body.
UC Davis Health System, Weekly Update, Dec., 2000, pp 1-2
Chlorella is the most significant breakthrough I've seen in over 25 years! There is nothing better for finally helping you feel the way you want to feel.
Michael Rosenbaum, M.D., Director of Orthomolecular Health Medical Society
We recommend trying lecithin for reducing the risk of coronary heart disease, fatty liver, and to improve mild memory impairment.
D.W. Johnson, Ph.D.; D.J. Molker, Ph.D., Department of Physiology and Pharmacology, College of Osteopathic Medicine, University of England
Green tea has been demonstrated to protect against chronic gastritis and stomach cancer.
International Journal of Cancer, 2001, Vol 92, No 4, pp 600-604
Resveratrol was able to inhibit the initiation and promotion of tumors, and cause pre cancerous cells to return to normal.
Science Journal, 1997, Vol 275, No 5297, pp 218-220
"... the current evidence collectively demonstrates that fruit and vegetable intake is associated with improved health, reduced risk of major diseases, and possible delayed onset of age related indicators."
Diane Hyson, Ph.D., M.S., R.D. The Health Benefits of Fruits and Vegetables: A Scientific Overview for Health Professionals
Greens First mentioned in allure Magazine,
April 2008!
Greens First was mentioned in Allure Magazine, April 2008 issue as a favorite product of the medical doctor interviewed for the anti-aging article! - Jeannette Graf, M.D.
Former Professor of Dermatology, New York University Medical Center "Every morning, I have an alkalizing cocktail to start my day. My favorite kind, Greens First, actually tastes sweet and give me tons of energy!" - Jeannette Graf, M.D.

Click Here to read more ...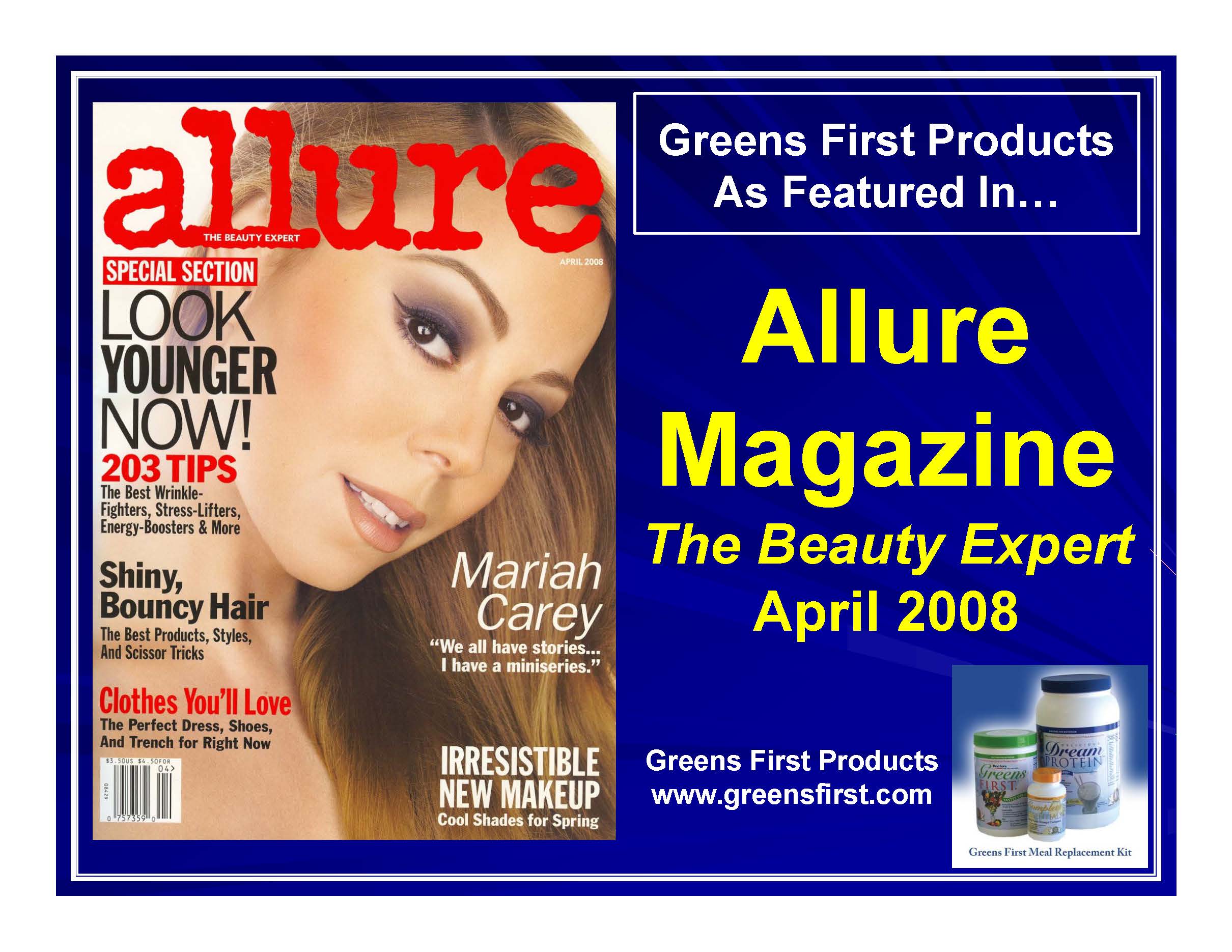 Greens FIRST is GUARANTEED DELICIOUS, OR YOUR MONEY BACK!
Only 30 calories and 3 grams of carbohydrates per serving.
Mixes easily without a blender.
Contains 49 super foods, extracts and concentrates including super greens, vegetables, fruits, probiotics, soluble and insoluble fibers, herbs, spices, natural flavonoids, enzymes and lecithin.
Each 9.4 gram scoop mixed with 6 to 8 oz. of water is proven to have the antioxidant power of 10 plus servings of fruit and vegetables.*
Contains Certified Organic Fruits and Vegetables.